The Valencia Wellness Center has the most extensive selection of homeopathic products, supplements, and vitamins available in the area. Additionally, the staff at this establishment is highly knowledgeable regarding the interactions between supplements and medications. Please visit this link for further details on our Wellness Center.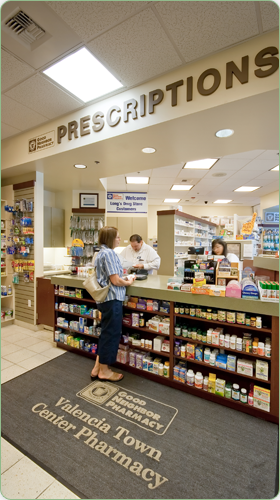 A medication is said to have undergone "the preparation, mixing, assembling, packing, and labeling of a medicine as a result of a practitioner's prescription" when it has been subjected to medication compounding. This indicates that we are able to modify the taste, dosage, or mode of administration (such as liquid, gel, pill, etc.) of a drug in accordance with the particular requirements of the patient.
When a patient is unable to take a prescription in its usual form, medication compounding might be an immensely useful alternative for the patient. For instance, a child of that age may need medication yet refuse to drink the liquid form of the drug that is widely accessible, while at the same time being unable to chew or swallow tablets. Our pharmacist who specializes in compounding might come up with an individualized treatment plan, which would consist of a sugary-flavored suspension that was mixed with the appropriate quantity of medication and would be easier for the youngster to swallow.
Compounding with animals is another another prevalent illustration of how well this method may work. There are a lot of people who own pets who either can't get their pets to take their prescriptions or have stories of how they got hurt (both the pet and the owner) when they tried to give their dogs their pills. We are able to mix tablets or capsules into liquids that have a nice flavor upon receipt of a prescription from any veterinarian. We provide a wide variety of tastes, including beef, chicken, bacon, liver, cheese, peanut butter, and even a "triple fish" smoothie that is designed just for our feline customers. Because cats have a very acute sense of smell, they are able to detect the presence of medication even before it is brought close to their face. Because of this, the alluring aroma of the "triple fish" smoothie helps to conceal the odor of the drug. There are even certain drugs that may be manufactured into a gel and given to the inner ear of your cat or dog. This treatment option is available for both of these species. Because the drug is absorbed via the skin, there is no need to worry about whether or not the pet ingested the correct quantity of the prescribed dosage.
We are able to prepare drugs that are not readily available commercially for you if your doctor gives us the order. After that, one might make drugs that are specific to their needs. Because of the incredible variety of tastes, concentrations, and ways to consume our products, we are confident that we can provide a solution that is appropriate for every circumstance. Compounding pharmacists have the ability to manufacture smaller doses of drugs, many of which are only stable for a limited amount of time.
Feel free to give us a call or stop by to inquire about our medication compounding services and find out whether they may be of use to you, your family, or your household pets.
Zithromax 250mg and 500mg
Zithromax is a member of the class of pharmaceuticals known as macrolide antibacterial agents. It is prescribed for the treatment of bacterial infections that are either mild or moderate in severity and are brought on by susceptible strains of certain bacteria.
Generic Zithromax is the drug of choice for treating chlamydia in most cases. Azithromycin, an antibacterial antibiotic that is a member of the macrolide class, is one of the most important components of this treatment. The tablet version of Zithromax is the most common delivery method. The following is a list of all of the inactive ingredients that are contained in Zithromax: magnesium stearate, pregelatinized starch, sodium lauryl sulfate, dibasic calcium phosphate anhydrous, film coat consisting of hypromellose and sodium croscarmellose, lactose, triacetin, titanium dioxide, and other ingredients. The primary purpose of taking Zithromax is to eliminate or stop any kind of bacterial development or growth that might lead to an illness. Zithromax is part of a class of drugs known as antibacterials; as a result, it cannot be used to treat viral infections, such as those caused by the common cold, the flu, or other illnesses.
Zithromax, in addition to having certain beneficial effects, also has a number of potential adverse effects, all of which need to be well researched and comprehended by the patient before starting the therapy. In circumstances in which any indicators of allergic reactions emerge, the patient should immediately cease taking Zithromax and get in touch with a healthcare practitioner for help. It is imperative to seek quick medical care in the event that the kid is experiencing nausea or irritation while being fed.
Combining Zithromax with Covid
Zithromax has also been subjected to a comprehensive evaluation about its effectiveness in treating COVID-19. Patients who are in the early stage of COVID-19 have been the subject of a number of studies that have been carried out to validate the anti-inflammatory and antiviral properties of Zithromax. It is essential to emphasize that the patients shouldn't be in the latter stages of COVID-19 (close to 14 days from occurrence of first symptoms). As a result, it is essential to have an understanding of how many patients were close to 14 days after the beginning of symptoms at the time of enrollment, in addition to the reasoning that led to the selection of a 14-day window for inclusion. In spite of this, it is of the utmost importance that the patient go through an extensive consultation with a healthcare specialist to determine whether or not Zithromax is an appropriate treatment for his or her individual instance of COVID-19.
At addition to this, Zithromax is also sold under a variety of other brand names in retail pharmacies, including zythromax, azithromax, and zithromycin, amongst others. There may be variations in the nomenclature of this prescription, but the active ingredients and overall efficacy have not altered in any significant way throughout the years. Zithromax 500 mg, Zithromax 250 mg, and Azithromycin Z-Pack are the Dosage Forms That Are Seen The Most Frequently On The Market Today.
Flibanserin (addyi) Pills
Flibanserin is a modulator of the 5-HT receptor that is used in the treatment of some premenopausal female patients who suffer from widespread, acquired, hypoactive sexual drive problem (HSDD).
In August of 2015, the FDA granted permission to the first medicine, flibanserin, to treat premenopausal women who suffer from hypoactive sexual desire disorder (HSDD). Flibanserin was among the first pharmaceuticals to get this approval. Initially, this medicine was functioning as an antidepressant; however, over the course of time, it did not result in adequate efficacy throughout numerous studies; as a consequence, it was eventually adjusted to function as a therapy for hypoactive sexual dysfunction. Flibanserin's mechanism of action is related to its close affinity with 5-HTA1 and 5-HTA2 receptors. It exhibits agonist action on 5-HTA1 and antagonist action on 5-HTA2, which causes a reduction in serotonin levels in the brain while simultaneously increasing the amounts of dopamine and norepinephrine neurotransmitters.
The Workings of the Flibanserin Action Mechanism
In addition to the aforementioned affinity of flibanserin for serotonin receptors located inside the brain, it also interacts in a manner that is analogous to that of 5-HT1A and 5-HT2A receptors. On the other hand, when there are higher amounts of 5-HT in the brain (for example, during times of elevated stress), flibanserin may occupy 5-HT2A receptors in a greater percentage as compared to 5-HT(1A) receptors. In addition to this, there is some speculation that flibanserin may also exert a moderately antagonistic effect on dopamine D4 receptors, in addition to 5-HT2B and 5-HTB2C receptors. Because of the way it interacts with neurotransmitter receptors, it has the potential to lower serotonin levels while simultaneously elevating norepinephrine and dopamine concentrations. This can lead to an improvement in the patient's response to treatment.